Hello cuties~! This isn't click bait, I actually got scammed. Let me tell you how. So, basically I read about this app called Mercari on twitter. It's basically a similar app to Depop Market. By that I mean, you can buy other people's things for less than retail. I found out about this app and read that I could buy Brand New makeup for less than retail. I thought it was too good to be true but, I decided to order, anyway.
The first item I ordered was a Stila Bronzer. This bronzer retails for about $34 (according to my sister) and as you can see, I bought it for $14, shipped. The item was advertised as new by the seller. When it arrived, I could tell it was either slightly used, or swatched. Though, it appeared used. I sadly do not have photos of this because I got a new phone and lost all of my photos. But, I decided to disinfect it and give the seller a poor rating instead of reporting it because it wasn't THAT big of a deal to be considering the price. Also, as a note in the photos it did not appear used. Though, the photos are low-res. So, that was my first experience with shopping with Mercari.
I decided to give Mercari another shot, the deals were too good to pass up. This time I was more careful and examined the photos, had my friend look at the photos, and checked the seller ratings. All of the ratings were positive and my friends gave me positive reassurance so, I went ahead and ordered what I thought was the Too Faced Chocolate Bar Palette.
I purchased this item which was advertised as authentic by the seller. When I got it, it didn't smell as strong as I heard it did. (This palette is meant to be chocolate scented.) The palette still smelt sweet to me so, I figured maybe this palette was a year old which is why I got it for so cheap. It was being sold for $34 plus shipping. I wasn't under the impression that the product was a fake. I actually didn't even know Too Faced fakes existed. The differences are very subtle which is why I didn't notice.
I went to Sephora yesterday and I saw the Too Faced Chocolate Bar in person. The shades seemed a lot more pigmented and shimmery in person. So, when I got home I examined my pallete. I swatched one of the shades that I remember being shimmery and mine weren't as pigmented. This lead me to do research on how to tell a Real Too Faced Palette vs. a Fake Palette. There are very subtle differences. The palette itself is a little bit lighter tone of brown and the "Chocolate Bar" text on the bottom corner is a more true gold. My palette is dark and the gold appears to be sort of washed out.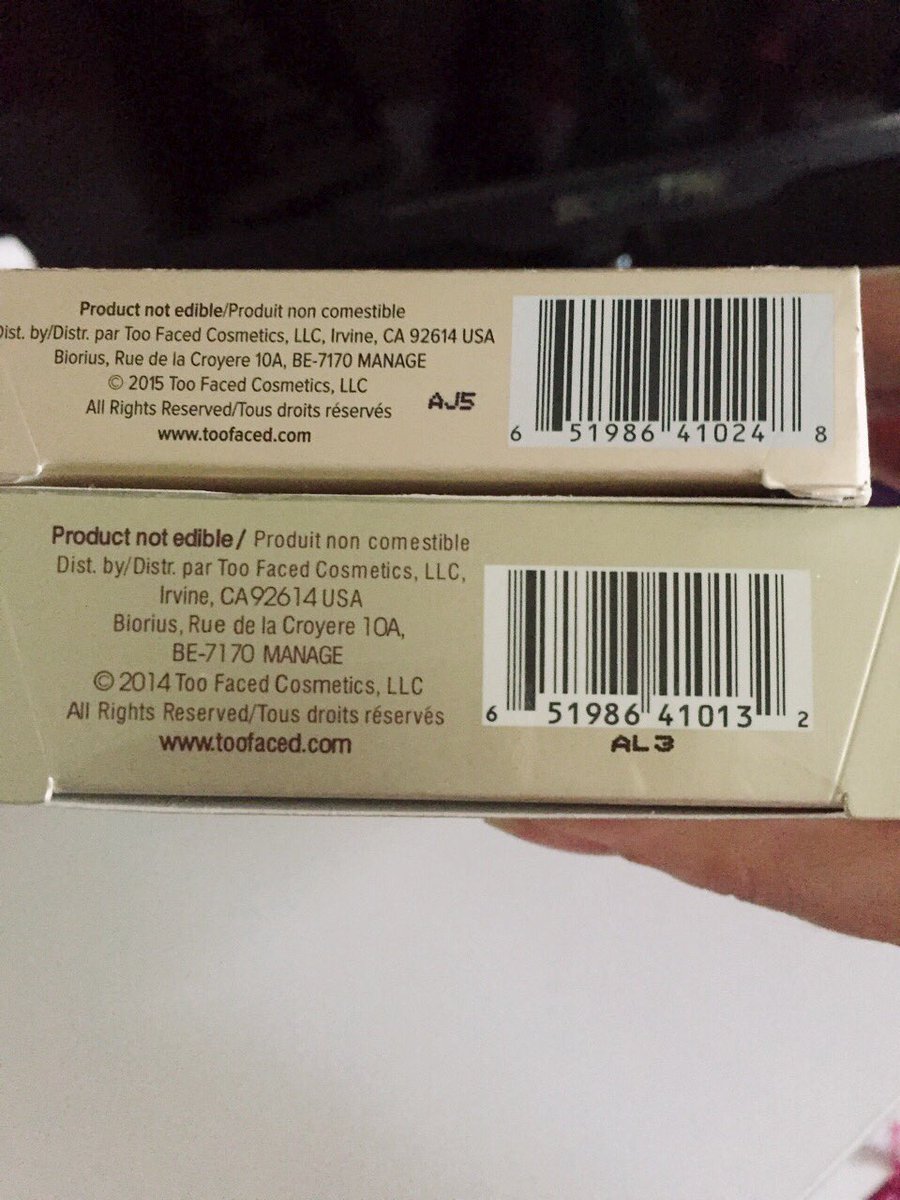 What really threw me off was the fake (bottom) has an authentication code. I compared it to my Too Faced Bon Bons Palette (top) and they both have a code so, I figured it couldn't possibly be fake.
What really convinced me that I had bought a fake is the next thing I noticed. My Bons Bons palette has an authentication code on the back near the bottom corner.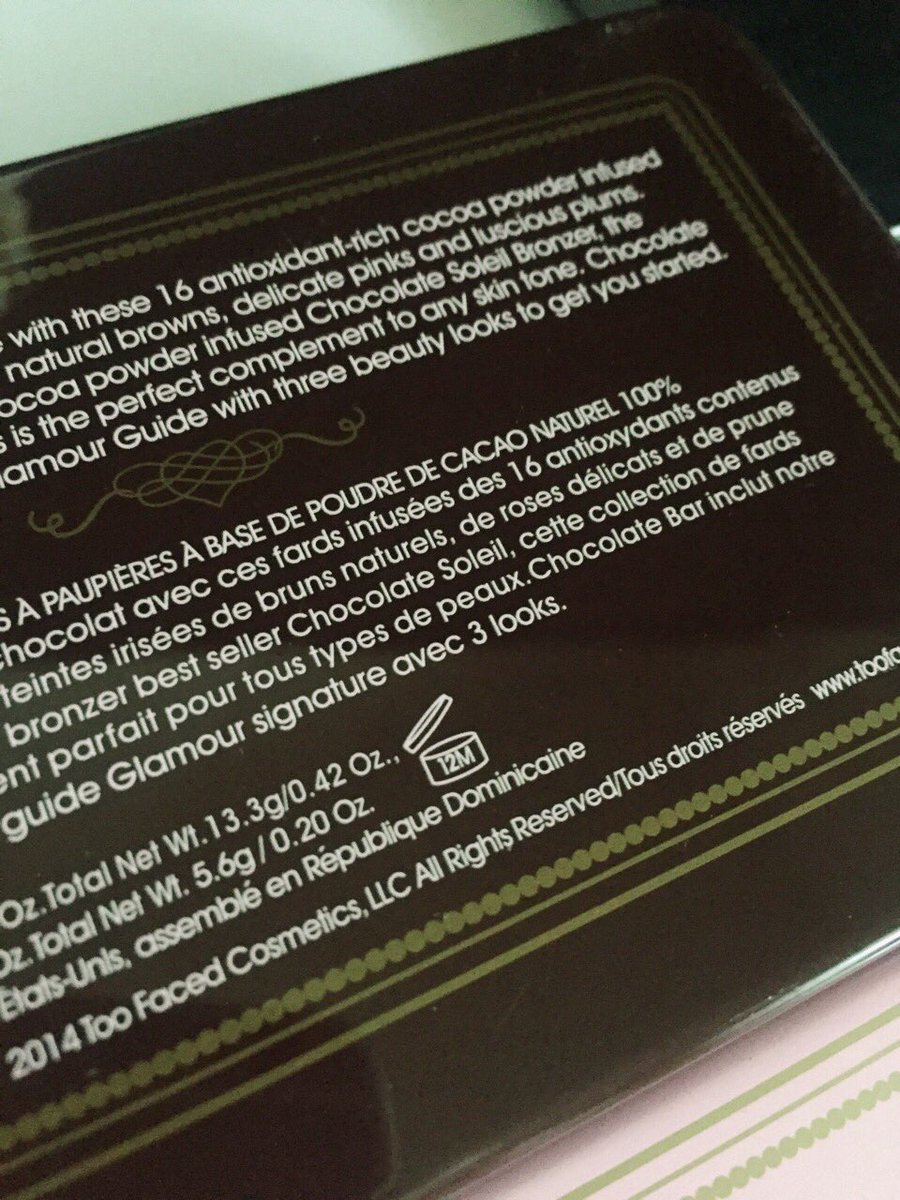 I compared my Bon Bons palette to the fake Chocolate Bar and as you can see, there is no code on the back. At this point in my examination I realized that I did in fact purchase a fake, The differences are so subtle that being someone who has never owned this product or had seen it in person until yesterday, couldn't recognize. Once I confirmed that the product I had purchased was indeed a fake, at first I felt a little sad for not realizing. But, the differences are so subtle that had I not done researh, I wouldn't have known.
In conclusion, based on my experience, I will not be purchasing from the Mercari app again. I am not going to discredit the app entirely since, it's made up of various sellers who may or may not be reliable, I wouldn't know. But, I would say that when buying makeup or anything second-hand online, be careful! Do research, read reviews, and if it seems too good to be true, in this case it probably is.
I apologize for the poor quality photos. Once I made this realization I really wanted to get this blog post up as soon as possible. So, I just snapped them quickly with my phone.
As always, much love and thanks so much for reading! ♥
Was this post helpful? Let me know in the comments.